In this module: Learn how to use the Quality Control fragments to assess the quality of your MLPA experiments.
Click the image below to start the e-learning module in a new window in English. This module is also available in German.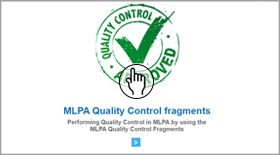 Internet Explorer users: version 9 or higher is required to be able to view our E-learning modules and Troubleshooting Wizard.
Rate the quality of this page
41 of 43 people found this page helpful
Disclaimer
The information provided in this material is correct for the majority of our products. However, for certain applications, the instructions for use may differ. In the event of conflicting information, the relevant instructions for use take precedence.